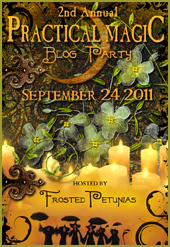 Frosted Petunias is hosting their Second Annual
"Practical Magic Blog Hop"
With Fall now upon us, this Hop will certainly help to get one in the spirit of the season.
Also, fall is known for the season of football.
The Sisters of the
"Sisterhood of Scrap"
are hosting a
Football Online Crop
this weekend.
A perfect way to get gear up for the season.
There are some things I know for certain: always throw spilt salt over your left shoulder, keep rosemary by your garden gate, plant lavender for luck, and fall in love whenever you can
Sally Owens~ "Practical Magic"